Claridge's London Private Guided Tours
Enjoy browsing our great guided tours...
London attractions:
Short breaks & services:

Book Tour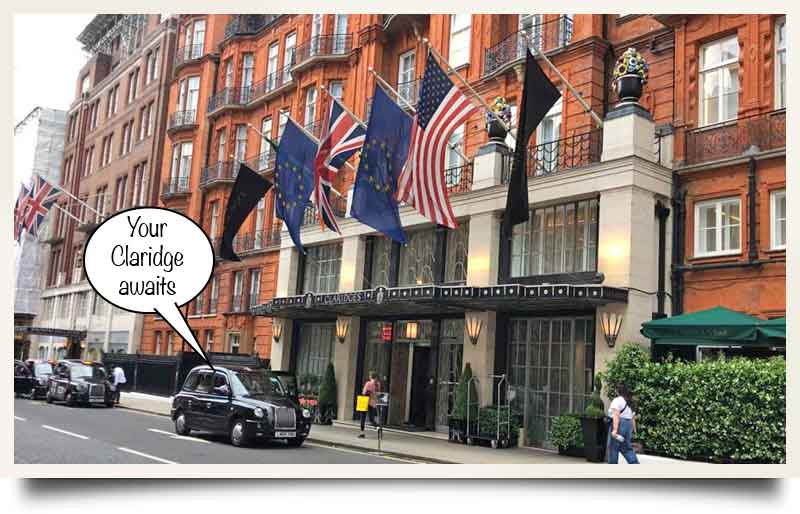 Claridge's is a high end hotel in the heart of London's Mayfair with 203 rooms and suites and around 400 staff. The hotel is famous for its opulence and art deco splendour. All very Poirot don't you know!
The hotel started life in 1812 as Mivart's Hotel. The hotel was sold to a Mr and Mrs Claridge who owned the hotel nextdoor and the two were subsequently combined. The reputation of the hotel was endorsed when in 1860 Empress Eugenie entertained Queen Victoria there, one of many royal connections leading to Claridge's sometimes being referred to as an 'annexe to Buckingham Palace'. And it's not just royalty who have patronised Claridge's, the odd celeb has enjoyed a stay including Cary Grant, Audrey Hepburn, Joan Collins, Whitney Houston, Brad Pitt, Mick Jagger and Roger Moore (who no doubt enjoyed a Vodka Martini or two in the famous cocktail bar).
Every year Claridge's does a Christmas tree display which is usually designed by a big name in the fashion industry such Kally Ellis and John Galliano.
Art Deco Architecture
Claridge's is synonymous with the art deco style of the early twentieth century but the building as we see it today was designed in the 1890s by C. W. Stephens - the architect responsible for Harrods in London's Knightsbridge. Much of the building from this time remains but there have been many renovations and modernisations over the years, most notably its transformation into an art deco icon during the twenties and thirties. The restaurant and several suites were redesigned by the prominent British achitect Basil Ionides who was a pioneer of art deco design during the jazz age. Ionides was also involved in the design of the Savoy Theatre interior and published two seminal books on modern design. The Foyer & Reading Room at the hotel still boast magnifant glass screens installed by the architect.
A new main entrance was designed by Oswald Milne, the British architect who later became the Vice-President of the Royal Society of Arts. A new Roman stone façade and mirrored foyer heightened the notoriety of the hotel among society members of the day. Building on this success, Milne went on to design a new art deco block as an extension to the east side of the hotel. The interior boasted a splendid suite of guest and reception rooms, all furnished in an elegant, eclectic style.
Claridge's say they are proud of their art deco heritage, yet they don't rest on their laurels and have been involved with modern designers such as Diane von Furstenburg, Guy Oliver, David Linley, Bryan O'Sullivan and Veere Grenney. In 1996 New York-based designer Thierry Despont undertook a major restoration project giving the Foyer a modern take on the art deco style - a Dale Chihuly light sculpture being the star of the show.
Fine Dining
Claridge's offer a range of fine dining in their restaurants and bars including traditional afternoon tea in The Foyer private dining room and Reading Room. There are two bars on the ground floor - the main bar and The Fumoir, a former cigar bar. L'Epicerie is a fine dining space in the purlieu of the hotel's revered kitchens. Here there is room for 14 guests to get up close and personal with the chefs. Claridge's Bar offers classic cocktails and the art deco inspired Painter's Room is a nod to the artistic stamping grounds of Provence and Italy. There's also a dedicated wine store - Claridge's Wine Cellar - where you can buy rare vintages to take to your room or take home to impress your friends at the next posh dinner do!.
In the past the hotel has staged a number of op-up restaurants run by Michelin star restaurateur serving fine dining ranging from Lancashire hotpot to live ants flown in especially from Denmark! You can even buy a Claridge's dining voucher. Beats a book token any day!
We can arrange a tour to Claridge's for you - please contact us for details.