Highclere Castle Downton Abbey Tours
Enjoy browsing our great guided tours...
London attractions:
Short breaks & services:

Book Tour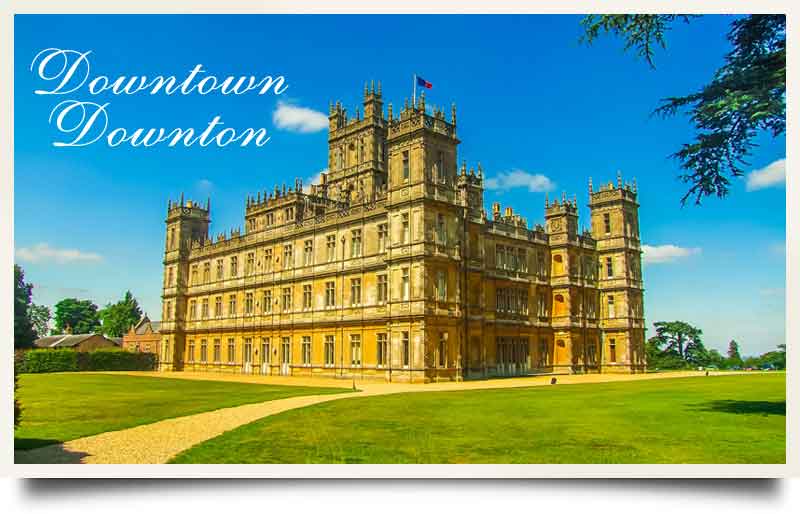 Highclere Castle in the Cotswolds is the now world-famous setting for the popular ITV series Downton Abbey. The castle was built in the 19th century by Charles Barry and for those with a keen eye, the architectural style may look familiar; for Charles Barry also led the rebuilding of the Houses of Parliament in 1834 after a disastrous fire engulfed the previous Parliament building.
Highclere Castle has a rich and fascinating history. In the early 20th century, after George Herbert, an enthusiastic amateur Egyptologist and the 5th Earl of Carnarvon, sponsored excavations of nobles' tombs in Thebes, the castle became home to Egyptian artefacts, and today an intriguing exhibition is held within the Castle cellars. Whilst the Second World War was raging across Europe, the Castle housed dozens of child evacuees, and was even a crash site for many allied warplanes.
Film & TV
Today HIghclere Castle is most known as the setting for the popular ITV series Downton Abbey. In fact, several television shows were filmed inside Highclere Castle predating Downton Abbey. It was first used in 1982 for filming of The Missionary, a comedy starring Michael Palin, and later became the filming location for the 1990s comedy series Jeeves and Wooster, starring Steven Fry and Hugh Laurie. The castle was also used in the two cinema films based on the series.
Architecture
The original country house was built in 1679 with parkland designed by Capability Brown in the 18th century. The building was substantially renovated in the 1840s by the third Earl based on a design by British architect Sir Charles Barry in the Jacobean style. The castle is faced in Bath stone and echoes English Victorian revivial architecture of the late 16th and early 17th centuries. At this time Renaissance architecture was replacing Tudor styles.
The first castle followed the layout of a square, classical mansion house but before Barry's design was implimented there was an aborted attempt to remodel the exterior in Greek Revival fashion. After Barry's death in 1860, the 4th Earl employed English architect Thomas Allom to complete work on the interior of the castle.

Landscape deisgner Capability Brown laid out the park between 1774 and 1777 with the process unbelievably involving moving the village! What remains of the 17th century church can still be seen at the north-west corner of the castle. It is thought that the Lebanon Cedars on the state are descended from seeds collected by Edward Pococke a 17th century Orientalist, biblical scholar and prolific seed collector.
We can arrange a tour to Highclere Castle for you - please contact us for details.