Hoover Building London Private Guided Tours
Enjoy browsing our great guided tours...
London attractions:
Short breaks & services:

Book Tour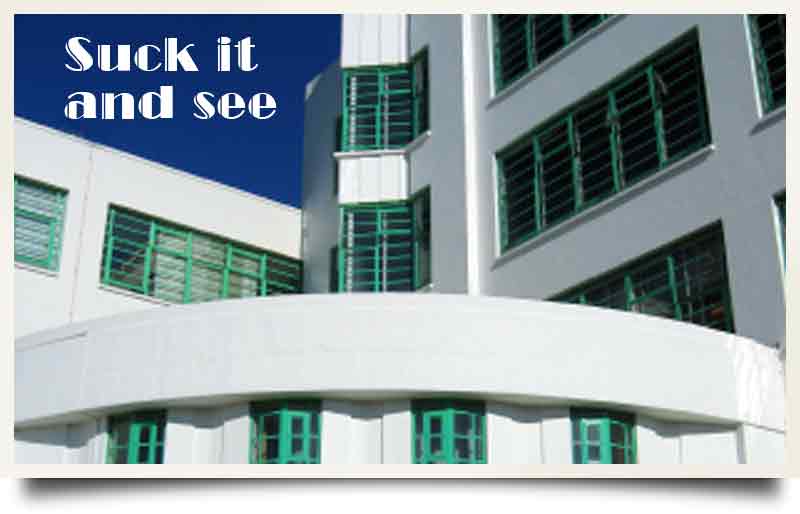 The Hoover Building in Ealing's Perivale is a prime example of art deco architecture built in 1933 as the UK headquarters and manufacturing centre for the Hoover Company. As demand for vacuum cleaners grew, the building was expanded over the coming years. At its height over 1600 workers were employed there and the site was considered a model factory regarding the welfare of the workforce.
The building was camouflaged during the war and used to manufacture aircraft parts. A Home Guard unit was even set up by the staff. The factory survived the war and was expanded again shortly after. Supermarket chain Tesco bought the property in the late 1980s and made some alterations to the northern area of the site. IDM Properties now owns the property and it has recently been converted into living accommodation. The building now enjoys Grade II listed status.
Art Deco Architecture
The Hoover Building and site was designed by architects Wallis, Gilbert and Partners who were also responsible for many other art deco styled buildings during the 1920s and 30s including Victoria Coach Station, the Pyrene Building and the General Electrical Company Witton Works in Birmingham.
Opened in 1933 by Lord Rochdale the Hoover Factory was a grand palatial structure described by the press as a 'Modern Palace of Industry'. Thomas Wallis said of the factory's design: 'A little money spent in the incorporation of some form of decoration, especially colour, is not money wasted. It has a psychological effect on the worker.'. A prominent geometric feature was the iconic art deco sunburst below the massive 'Hoover Limited' signage and recessed glass bay windows complimented the huge columns of the exterior facade. Interior features included the spectactular entrance and staircase both of which survive and still resonate art deco taste.
IDM Properties carefully considered preservation of the building during its renovation into accommodation by conserving the art deco features of the interior. Work began in 2017 and included the addition of a new top floor. The double-height ground floor has been retained and two maisonettes built into the towers that flank the facade retain the original listed staircases. The wrought-iron banister staircases, terrazzo lobby floors and the light fittings have been restored and the revitalised art deco corridors with green interiors and high-waisted dado rails echo the original colour scheme of the building.