Tin Pan Alley Private Guided Tours
Enjoy browsing our great guided tours...
London attractions:
Short breaks & services:

Book Tour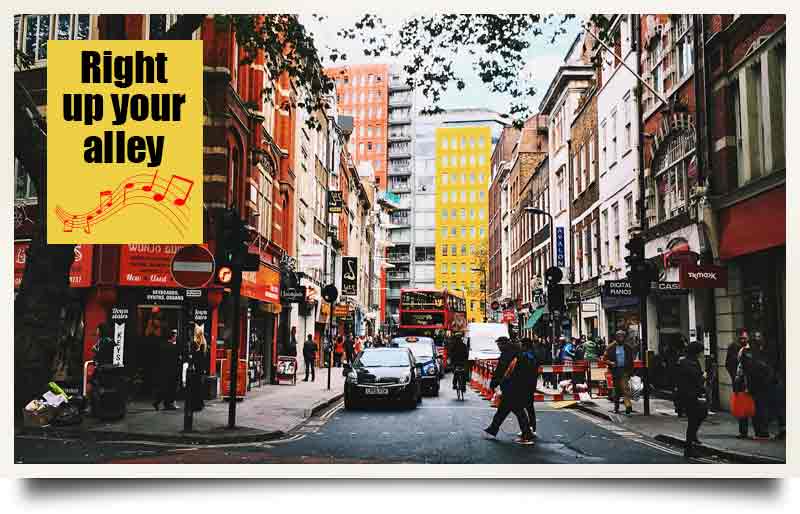 'Tin Pan Alley' (Denmark Street) in Central London has been at the heart of the British music industry since the early twentieth century.
Denmark Street was originally developed as part of a residential area in the late seventeenth century but by the 19th century it had become an area for metalworkers. Subsequently, the street became home to Britain's music industry.
Music Heritage
Lawrence Wright founded the music journal 'Melody Maker' in 1926 from a premises in the street. By the 1950s Denmark Street had established itself as Britain's 'Tin Pan Alley'. The 'New Musical Express' (NME) magazine was written from Denmark Street during the 1960s.
Writers such as Lionel Bart , famous for writing the musical Oliver, began their careers in the street and many people associated with the music business and theatre regularly bought material produced in the there.
By the 1960s Denmark Street was famous for its music shops and independent record studios. Artist's such as the Rolling Stones recorded in the newly established small studio at Regent Sound Studios at No.4 . The Sex Pistols lived above a shop at No 6 Denmark Street and also recorded some of their Demos in the there. With groups and artists often in the street, one of the streets cafes, The Gioconda, became a hangout for David Bowie, Jimi Hendrix and the Small Faces. Other buildings in the street were used as offices and flats. A young Elton John and Bernie Taupin wrote songs in premises in the street during the 1970's.
By the 1990's the publishers , recording studios and nightclubs had left the street making way for the instrument stores which still line the street. However recent redevelopment of the area around Tottenham Court station has had an impact of Tin Pan Alley.