Whitehall London Private Guided Tours
Enjoy browsing our great guided tours...
London attractions:
Short breaks & services:

Book Tour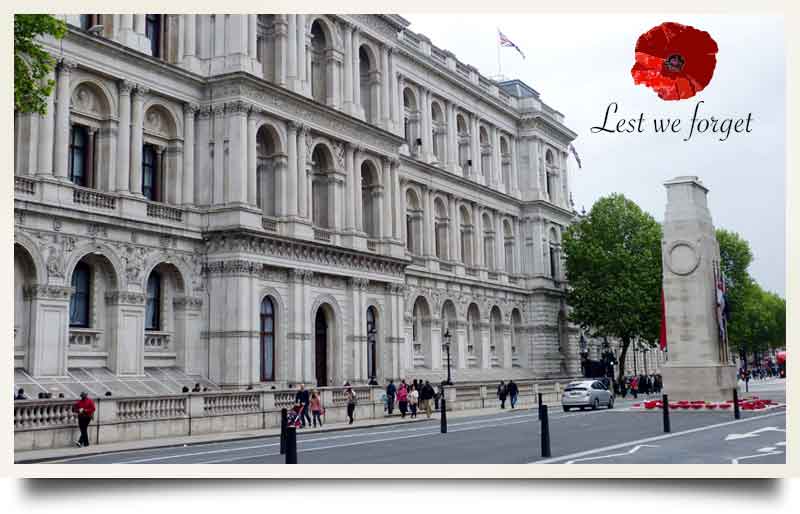 Whitehall, a road in Central London, is often called the centre of the UK government. Several departments and monuments line the road: The Ministry of Defence, the Cabinet Office, the Horse Guards, and the Cenotaph. Whilst Whitehall Road may have survived the years, the palace it was named after – the Palace of Whitehall – where monarchs lived prior to Buckingham Palace, was engulfed by fire in 1698. The palace was never rebuilt.
The 0.4 miles road (0.6 kilometres) became a residential street in the 16th century, however it existed prior, since the 12th century, as a "continued suburb". The Palace of Whitehall (originally called the Palace of York) was home to the infamous Henry VIII. He married two of his wives here: Anne Boleyn and Jane Seymour, and even died himself at the palace in 1547. After the palace was destroyed, Parliament, recently sovereign, wanted to distance themselves from the crown. The buildings around Whitehall provided ample space in their venture.
Whitehall also leads to Downing Street, where the famous No. 10, the residence where the Prime Minister resides, is situated. It goes without saying, then, that the street draws a lot of visitors. And so, in order to pay respects, the Cenotaph was erected in 1919. A tribute to the soldiers who lost their lives in the Great War, later expanded to the Second World War, it is the main memorial in Britain with a service held every Remembrance Sunday. Later, in 2005, a further memorial was added nearby to honour the women of the Second World War who worked tirelessly to produce munitions and keep the country afloat whilst men fought overseas.
If history or politics isn't your thing, don't worry; for the street also offers entertainment. The Whitehall Theatre, opened in 1930, and built in an Art Deco style not unfamiliar for the time, regularly stages classical plays. From Sweeny Todd to A Christmas Carol, the West End theatre features talented casts from all around the world.
You may have known it for being a Monopoly square, but once you visit this historic street, you'll soon learn to appreciate everything it has to offer.
Heritage
Black History celebrates the heritage of Black Tudors including John Blanke a trumpeter at the court of Henry VIII at Whitehall Tudor Palace. Many Black History tours also discuss the incredulous fact that slave owners have been paid compensation by HM Treasury with payments still being made right up to 2015.